Arsenal fans react as the Spaniard returns to Real Madrid
The Spanish striker Alvaro Morata has left Juventus to make a move to the Real Madrid.
The La Liga giants have confirmed that they had triggered a buy-back clause on Juventus striker Alvaro Morata, for a fee reported to be around £24 million.
Arsenal including many high profile clubs in the Premier League were heavily linked with the 23-year-old forward, it appears Arsene Wenger has missed a chance to sign the Spaniard for a reasonable fee.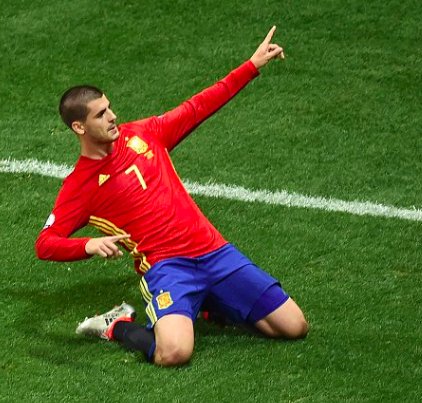 Morata has established himself since from the final campaign at the Bernabeu, coming on ups and downs in terms of his skills as a forward during his two year spell in Turin.
Here is how Gunners' supporters reacted to the news, many of theme were gutted in Wenger's inability to pay a nominal fee for a world-class forward..
#Arsenal should spend £60 million on Aubameyang, if we don't sign Vardy, £60 million would be wasted on Morata

— Stephen Hook (@Venom_Man_1690) June 21, 2016
Arsene Wenger is one unlucky manager, most players that he wants he doesn't get, now he has given up on Morata. Is Vardy another one?

— Franco (@Zuks_Franco) June 21, 2016
@ElSpanishGooner reckon we're standing a chance to land Morata? Surely Wenger/board will be reluctant to splash big money on him

— Announce Mkhitaryan (@ArtweetaAFC) June 21, 2016
@makeezyfosheezy I still like Spain even with the loss. Morata looks good. Now if only Wenger will buy him since Vardy is a no go lolol.

— Ben Brown (@BenJammin__) June 21, 2016
Arsenal fans: We will sign Vardy, (Vardy skins them); We will sign Morata (goes to Madrid): Sanogo is back (Wenger gives a thumbs up)

— Ole Teya (@Kevin_teya) June 21, 2016
Now that Morata has rejoined Madrid & Vardy has told us to Fucc off. I guess Wenger can settle for Akpom & Sanogo.

— D4M14N (@iMancub) June 21, 2016
Those Morata moves are what @Arsenal need. Time to dust up the cheaque book Monsieur Wenger

— Shiashia (@keithisindu) June 21, 2016
Arsene wenger should just go for nolito i think morata will be out of reach now #afc

— uwumwonse anthony (@iamtonerry) June 21, 2016