Arsenal fans react to City's reported interest in Aubameyang
Earlier in January, According to The Sun – Arsenal were heavily linked with a whopping £42m move for Borussia Dortmund striker Pierre-Emerick Aubameyang.
The French-born Gabonese striker, who scored 36 goals last season, is one of Europe's most wanted forwards.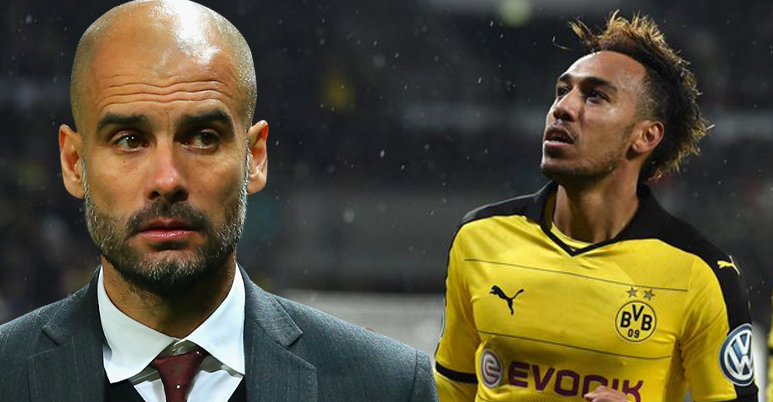 It now appears Premier League rivals Manchester City are close in on for Aubameyang's signature, with SkySports claiming – Pep Guardiola has made the 26-year-old his top summer target, and the Citizens are reportedly desperate for his services.
Gunners meanwhile, are now hoping Jamie Vardy should accepts their offer to join the Emirates, but since his release clause was met, there is not such possibilities.
Here are some of the best reaction from the north Londoners' fans as Aubameyang to City reports emerged…
Guardiola who has Aguero is quietly in talks to sign Aubameyang.
Wenger has Giroud & is begging for Vardy.

What a day not to be a gooner!

— Lord Gooner (@lordgooner8) June 7, 2016
Arsenal is one shame of club. Even Vardy considering joining us while City taking Aubameyang.

Awful.

— Nevena Nenny (@NenaCOYG) June 7, 2016
City getting Aubameyang, Liverpool Higuain, United Zlatan & Greizmann and Wenger is waiting on Vardy's call like… pic.twitter.com/yu4BRkLlxP

— Arsenal Miami – MASC (@ArsenalMiami) June 7, 2016
Been refreshing my twitter since yesterday to see if there's any positive news on Vardy only to be met by Aubameyang to Man City news. ffs

— Danny Welbeck (@WelBeast) June 7, 2016
Aubameyang is available but penny pinching Wenger is going for Vardy. Nothing changes.

— TikaTakaWilsh (@TikaTakaWilsh) June 7, 2016
Players like Mesut Ozil and Alexis Sanchez deserve to be at a club bringing in Aubameyang type signings not Jamie Bloody Vardy.

Criminal

— WozTheGooner (@wozthegooner) June 7, 2016
When City are signing Aubameyang and us Gooners were praying for Vardy. fml

— jmschrch (@_jameschurch) June 7, 2016
Our rivals are signing Aubameyang and Zlatan whilst we got put on hold by Vardy. What is life.

— #23 (@ravel_correia) June 7, 2016